Gone are the days when small businesses used to manage day-to-day tasks using different resources and tools. An enterprise management system is a software package that allows businesses to conduct and control different business processes. Using this system helps reduce business complexities. It ensures that all relevant aspects of the business are aligned with the company's objectives.
Let's delve into the importance of enterprise management in the company.
Enterprise Management Defined
Enterprise management refers to managing a business's regular processes. Day-to-day tasks include managing inventory, HR, CRM, and accounting. This management works by sharing and exchanging information via a shared database. It enables your business to have full visibility into its operations by providing updated information. In actuality, this system consolidates different management styles into one. This ensures smooth work, which leads to long-term management excellence.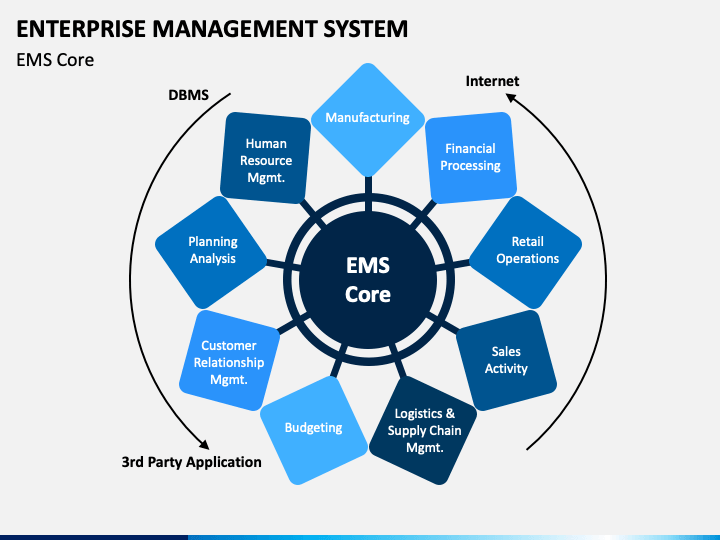 Why Is Enterprise Management Important?
Enterprise management is crucial for today's business landscape. The idea of having this strategy in place is to combat and arm your business against external factors. Such factors are mainly inflation and overall economic turmoil. These factors lead to disruptions in the supply chain and businesses' management as they fail to adapt to the changes. Many businesses succeed in such transformations, while others fail because employees do not know how to work. They are simply clueless.
Having a right and concrete operational strategy can help prevent a company from getting into an unnecessary mess. In this case, adaptive enterprise management stands firm and doesn't make you fall. With this system, businesses can align their end-to-end tasks and get better visibility on their work setup. To have an impactful and risk-free business, the adoption of this system is important.
Types of Enterprise Management
Regardless of the size and industry of the company, be it small or large, centralized software is essential. There are different types of enterprise management to ensure the smooth operation of business. Having dedicated software makes asset and operational management easier.
Mainly, there is CRM, ERP, and SCM management software. Let's discuss them to delve into them in more detail. 
Customer Relationship Management (CRM)
Customer relationship management (CRM) plays a critical role in company operations. It is designed to collect customer data, find market opportunities, and forecast sales. Moreover, it focuses on processing data and interaction with buyers. Brands use this software or system to speed up the process of handling queries from clients. A timely response is something that every customer craves. Using this system helps in seamless enterprise management, irrespective of their size and industry type.
The end goal of CRM is to ensure that business runs smoothly and is connected to customers. As a result, it promotes business efficiency and its processes and boosts the company's bottom line.
Supply Chain Management
No business is absent from its core operations in the supply chain. Business supply chain processes include development, sourcing, and shipments. This system facilitates integrated partnerships and manages the flow of SC. There are systems that help in the seamless operations of this area of the business. 
Some of the main SCM operations include:
Product development
Procurement
Inventory management
Logistics
Order facilitation
Enterprise Resource Planning
This management system enables the facilitation of processes. For example, it ensures smooth management of marketing, HR, accounting, and finance operations. Having this system in business helps in the effective flow of operations and information in the company. Each module in this system works on a different app to operate seamlessly.
ERP helps manage different industries effectively which mainly include:
Manufacturing
Human Resource
Finance and Accounting
Features of an Enterprise Management System
A good enterprise management system has a few key features. Some of these are:

Flexibility
Enterprise management is flexible when it comes to managing a business's daily operations. It helps design operations and quickly make adjustments if needed. Businesses can design their rich models using this approach and make it centralized.
High Engagement
High engagement is one key feature of this management system. Employees can interact and access information in real-time. Role-based information helps businesses find employees easily. Moreover, you can share information and relevant content in real-time to keep everyone informed. Empower employees to collaborate with anyone and anytime.
Analytics and Reporting
Many people fail to distinguish between reporting and analysis. However, both of these terms behave differently in this management system. Analysis is done keeping an eye on the business's different activities, as discussed above. Reporting is a way of delivering the analysis to the end user. This system uses different tools to create reports, which include Gantt charts, pie charts, and other graphs and representation tools. Not everyone can have access to the reports with this system.
Asset Management
As a holistic management system, it oversees the asset management of the business. Using this system for asset management helps in assessing an asset's fee, risk, and possible growth. It helps create QR codes for better function and tracking of assets. Moreover, you can also gauge an asset's downtime and take specific measures to address pauses.
Accounting & Finance
Finance is a crucial part of any business or enterprise. Enterprise management systems help cover the categories of finance and accounting. Supervising financial aspects like accounts receivable, payable, and other asset risks. Moreover, it can also enhance the accounting functions of the business, e.g., sales, analysis, and expense management. EMS with integrated AI technology can offer accurate bookkeeping for businesses and reduce the burden of manual processes.
Inventory Management
Inventory management is another great feature of an enterprise management system. It helps track inventory in real-time. For example, using this system helps in locating products with product descriptions, categories, and names. Also, it ensures that inventory is managed properly with the FIFO method so that it won't pile up.
Benefits of an Enterprise Management System
The ever-evolving market causes disruptions in the operational activities of the business. Not having a concrete management system in place can cause companies to lose their workforce as well as affect their bottom line. There must be ways to address such fluctuations in the market to achieve operational excellence. A solid enterprise management system can cater to this service.
Here are some benefits of an enterprise management system for your business:
Manage Complex Operations
A business's survival needs different operational activities, including IT, HR, finance, and many others. Operating all such areas could be overwhelming when managed at once. Enterprise management systems help support complex operations. With this system in place, you don't need many resources to get things done. It helps streamline business operations, which enhances efficiency as well as productivity among employees.
Enhanced Performance
It goes without a second thought that this system enables productivity. It helps remove manual processes and reduce paperwork, which breeds efficiency. Since this system aligns different areas like IT, supply chain, and sales together, you can access data in real-time. Having quick access removes delays in the supply chain and enhances operational activities. Moreover, using this system removes human errors, which leads to greater accuracy, which impacts the company's bottom line.
Data Accuracy
Data accuracy is something that every company needs. More and more companies have transformed into data-driven businesses. AI and machine learning have made it easier to collect, manage, and translate data. Handling data is a massive yet challenging task due to the evolving information of employees. Using this tool streamlines data management and enhances its processing at the same time. Employees can access, update, and share data in real-time, which boosts performance and collaboration.
Cost-Effective Solution
Since different functions are available in one single unit, it is comparatively cheaper. When different services are being catered to on one platform, it makes a bundle offer. Having different service providers at the same time is a costly matter. An enterprise management system enables different areas to perform under one roof. This way, they can draw on and align with each other and streamline business processes.
Enhanced Security
Its integrated security system helps mitigate any threat to the system. We make this system compliant with the state's laws. It is safe to say that the data stored in this system is safe and encrypted. There are restrictions in terms of using and accessing the data in EMS. It makes it highly secure that you can show this to law-binding authorities. This shows that having this system in place can help you avoid security threats and improve your business performance.
Improved Business Planning and Insights
This system enables easy tracking of business goals, customer satisfaction rates, and other metrics. EMS compiles every function of the business to get insights into the company's performance. It makes it easier for stakeholders and decision-makers to get an overview of the company's performance. They can use these insights to make informed decisions while creating strategies.
EMS Can Make Organizations More Efficient
Since we understand how EMS works, it is mainly for large organizations. These businesses have high implementation costs and complex IT solutions that only EMS can handle. Having this system is crucial for businesses, as it stores enterprise data in a usable format. It is highly secure and encrypted end-to-end with only the company's workforce, which reduces the risk of cyber attacks and loss of data. You may have found all the good reasons to have this system in place, as mentioned in the above article. You can use it to gain a competitive edge over the competition.