In the early days of television, sound was transmitted through small built-in speakers within the TV sets. There was no concept of getting a soundbar or separate sound system. These speakers were primarily designed to convey the audio accompanying the video, often featuring mono sound. The priority was visual, and audio quality was secondary.
As television technology advanced, there was a growing emphasis on enhancing the visual experience. This resulted in the development of larger, slimmer TV designs. These sleeker TVs had less room for built-in speakers. This change led to a significant compromise in audio quality. It made it challenging for viewers to enjoy the full depth and richness of sound.
Furthermore, the shift towards flat-screen TVs meant that there was even less space available for built-in speakers. The speakers in modern flat-screen TVs are often small and rear-facing. This makes it difficult for viewers to hear clear and immersive audio, especially dialogue.
Television sound has undergone a remarkable transformation. To understand why sound bars are a basic need now, let's take a look into the historical evolution of TV audio.
Historical Evolution
Over the years, televisions have undergone significant changes, bringing the cinematic experience into people's homes. This shift challenges the traditional view of TV as a primarily auditory medium.
Various developments like widescreen TVs, high-definition receivers, home entertainment systems, and 3D technology have made television highly visual. It's not just about sound but also about stunning visuals. Television sound has also evolved to catch up with the standards set by the film industry with stereo and surround sound systems. This means the sound quality you get at home is much better than before.
However, the way we watch TV has changed too. It's not just in our living rooms. Televisions are now everywhere, from lobbies to airports. With the rise of portable devices like laptops and smartphones, people are watching TV with varying sound quality.
Moreover, new media interfaces and web platforms have altered how we experience TV. There's no longer a fixed schedule, and shows are viewed on a variety of devices. The "liveness" of television is diminishing, impacting sound practices.
TV has transformed from being just a "talking box" into an audio-visual extravaganza. It has the flexibility to be consumed anywhere, on any device, at any time. This has led to new sound practices and ways of storytelling on television. The lines between TV and cinema have blurred, and television sound design has entered a new era.
In addition to these design challenges, the content being broadcast also evolved. Modern television programs, movies, and video games are produced with sophisticated audio techniques. They use surround sound, ambient effects, and precise placement of audio to create a cinematic experience. These techniques are lost when played back through the tiny, inadequate built-in TV speakers.
This is where soundbars come into play. So, let's understand what soundbars really are and what role they play.
What Are Soundbars?
A soundbar is a type of speaker designed to produce sound and is often referred to as a media bar. It's typically built horizontally to fit neatly above or below a TV or other devices. Soundbars are wider but not very tall. They contain multiple speakers in a single case. The idea is to have a powerful and compact all-in-one speaker system that doesn't take up much space.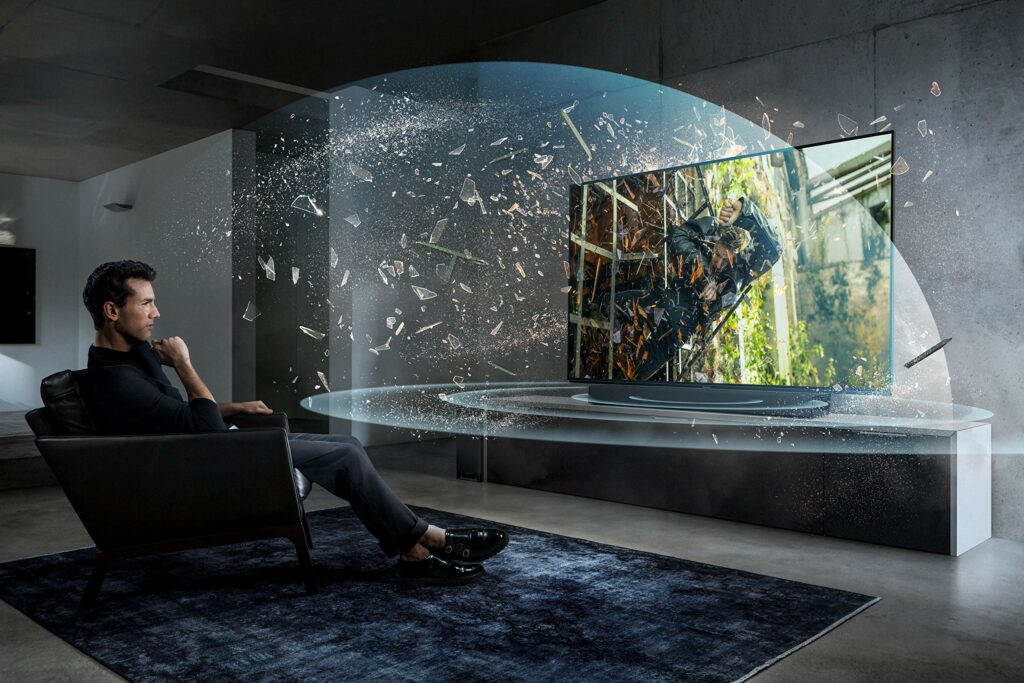 Who Invented Soundbars?
The invention of the soundbar can be attributed to Altec Lansing. It is an audio electronics company based in the US, established in 1927. In 1998, Altec Lansing introduced the first multichannel soundbar called "Sound of the Theatre," or ADA106. This innovative soundbar provided stereo sound. It used unique Altec Lansing algorithms to create sound from various directions – sides, rear, and front. Even though it was introduced in 1998, it still looks modern and up-to-date. However, Altec Lansing didn't produce many variations of this design.
Later on, other audio companies developed alternative designs based on the soundbar setup. For example, Hannaher's Zvox 315, introduced in 2003, was a notable version of this invention that gained worldwide popularity. Other audio electronics companies also started showcasing their versions of soundbars.
One significant invention in the soundbar evolution was Pioneer Electronics. It introduced its PSDP-1 soundbar. This soundbar was the first digital sound projector that used a single powered-source speaker.
Pros and Cons
Soundbars have both advantages and disadvantages. They are a great choice if you want a speaker without the need for a subwoofer. They provide high-quality sound while taking up very little space. This makes them ideal for modern flat-screen TVs. Soundbars offer a sleek and modern design. Instead of purchasing a set of speakers, you only need one compact soundbar. They can deliver rich and nuanced sound. The main drawback of soundbars is that they need space to be mounted, typically on a wall. Additionally, some users might prefer separate subwoofers for enhanced bass, especially for higher volumes. Modern flat-panel displays and computers have built-in sound systems, but they often lack robust bass. Soundbars help overcome this limitation. Early models connected with wires, but today's soundbars often use Bluetooth for wireless connectivity. They can even be paired with mobile phones via Bluetooth, offering a portable audio solution.
Why Have They Become a Necessity?
Soundbars have become a necessity because they bridge the gap between the stunning visuals of modern televisions and the audio experience viewers deserve. They can significantly enhance dialogue clarity and amplify sound effects. Moreover, soundbars are compact and easy to set up, making them a practical solution for enhancing TV audio without the need for a full home theater system.
Speaker vs Soundbar
When choosing between speakers and soundbars to enhance your home theater audio, there are key differences to consider, such as audio quality, setup, and cost.
Speakers
Appearance: Speakers come as separate components and need a receiver. They're the traditional choice for improving your TV's sound.
Advantages: If you want a truly immersive surround sound experience, especially for music concerts, gaming, or a cinematic experience, speakers are a great choice.
Customization: You can mix and match speakers from different brands as long as they are compatible with your receiver.
Budget: If you're willing to invest more money and have a passion for high-quality audio, speakers are the way to go.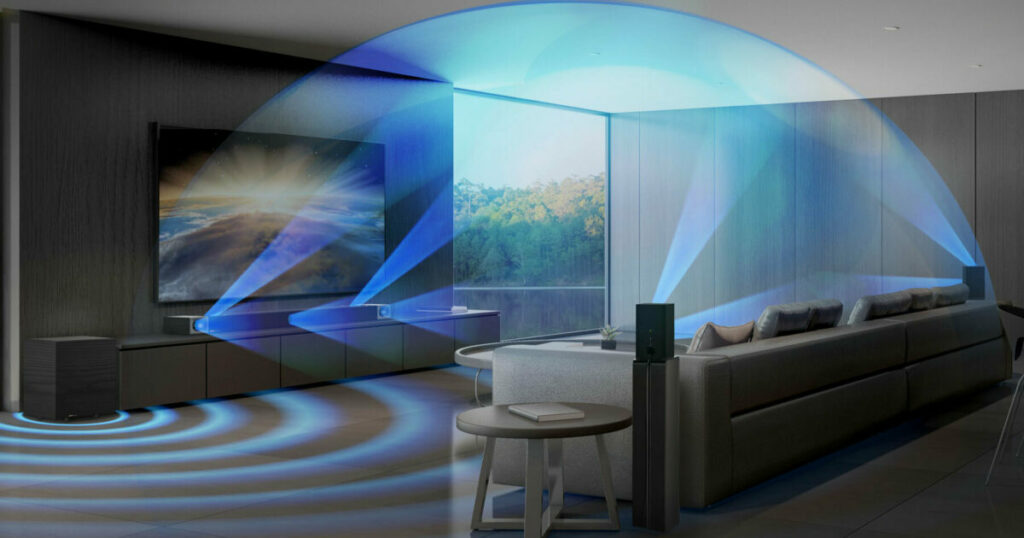 Soundbars
Appearance: Soundbars are sleek, all-in-one devices that are perfect for those with limited space. They offer a minimalist and unobtrusive design.
Advantages: Soundbars are budget-friendly and easy to install. They can significantly enhance your TV's audio without much hassle.
Simplicity: They're perfect for people who want better sound without diving into technical details or needing a stereo surround effect.
Value for Money: If you're on a budget and don't require a full-blown surround sound system, soundbars offer excellent value.
Your choice depends on your budget, space, and level of audio appreciation. If you're an audiophile or want a premium audio experience, go for speakers. But if you want a cost-effective and hassle-free solution that still enhances your audio, opt for a soundbar. Soundbars are ideal for those who prefer simplicity and space-saving designs.
Famous Soundbar Brands
Here's an overview of famous soundbar brands:
Bose
Known for innovation and high-quality audio
Offers smart soundbars that provide cinema-quality sound without extra subwoofers
Products range from entry-level like the Bose TV Speaker to premium bundles like the Bose Premium Home Theater system
Features include Dolby Atmos and Alexa voice command functionality
Bose prioritizes quality over quantity in its product lineup
Sonos
A pioneer in wireless home entertainment with a focus on multi-room audio
Sonos soundbars include models like Sonos Ray, Sonos Beam (Gen 2), and Sonos Arc
The midrange Sonos Beam (Gen 2) stands out for its build quality and sound, offering a theater-quality experience
It's compact, supports Dolby Atmos, and can integrate into a wireless multi-room setup
Sonos also offers subwoofers and packages for various sound configurations
Samsung
A South Korean brand offering a wide range of soundbars
Various models available to fit different budgets
Prices range from a few hundred dollars to almost two thousand
Compatible with Samsung TVs, providing an immersive audio experience with features like Q Symphony
Key features include advanced audio technologies like DTS:X and Dolby Atmos
Bluetooth and Wi-Fi connectivity for convenience
Configurable through the Samsung SmartThings app
Can function as standalone Bluetooth speakers for mobile devices
Some features like "Tap Sound" are exclusive to Samsung phones
Ideal choice for Samsung TV owners seeking compatibility
Sony
Offers a wide range of soundbar models suitable for various budgets
Known for delivering clear audio with exceptional clarity
Available in 2.1, 3.1, 5.1, and 7.1 channel options (".1" refers to a low-frequency channel)
Build quality and versatility are hallmarks of Sony soundbars
Sound technologies include 360 Reality Audio, 360 Spatial Sound Mapping, Dolby Atmos, DTS:X, Sound Field Optimization, and Vertical/Front Surround
Different configurations cater to various audio needs, with 5.1 surround sound being a popular choice
Sony emphasizes research and development for sound quality and innovation
These brands offer soundbars and audio solutions to cater to different preferences and budgets.