As the chilly sweater season kicks in, social media lights up with festive vibes. Brands eagerly jump into the world of the marketing game with some great Christmas marketing ideas. For marketers, the holiday season is about warmth and good feelings. It's a time when they have to grab attention in the midst of all the festive excitement. While love and joy fill the air, marketers need to figure out how these emotions influence what people buy. It's a competitive time, and brands have to find a way to stand out.
Success for a brand during the holidays comes down to being noticed. Understanding how our brains see and remember brands is important year-round. But during this festive season, it's the key to making a lasting impression in the holiday rush.
Christmas is your time to shine! Want more sales, higher revenue, and a crowd of happy customers? Explore these festive marketing campaigns, strategies, and ideas that sparkle with creativity. Make your brand unforgettable, and watch those sales soar.
Here's your guide on how to make it happen.
Strategies/Best Practices
Before we explore some ideas, here are some strategies and practices you can follow for your Christmas marketing:
Personalization
In the spirit of giving, sharing goes beyond gifts to the content we cherish. Personalization adds that extra touch, making things more than just some material. When customers can customize a message or product for their loved ones, it forges an emotional link with the brand. Think about Coke's "Share A Coke" or Oreo's "Design A Pack" in 2015. They aced the personalization game and gave customers a reason to spread the brand's joy.
Start a Countdown
Remember the excitement of opening each door on an Advent calendar? It kept the joy alive throughout December. Building anticipation triggers pleasure in our brains, even more than the actual reward. Become the source of anticipation for your audience. Whether it's teasing a holiday announcement, offering discounts on mystery items, or surprising customers with a "TBC" (To Be Confirmed) gift, create excitement about the unknown. Take a cue from Google's Santa Tracker. It releases daily Santa-related content in December. It's buzz that makes consumers notice and engage with your brand. Just like how Netflix gets you hyped for Christmas movies and gets you in the mood.
Festive Contest on Socials
Engage your audience with a hassle-free holiday contest. Keep it simple by introducing a Christmas-themed hashtag or filter. Encourage people to share pictures wearing or using your products, be it themselves or their friends. For Christmas, consider having multiple winners. Prizes can be small yet thoughtful, like pairing a holiday greeting card with any product from your collection. Contests offer ample possibilities. Incorporate a touch of influencer marketing by collaborating with micro-influencers in your niche. They can either promote the contest or receive a gift.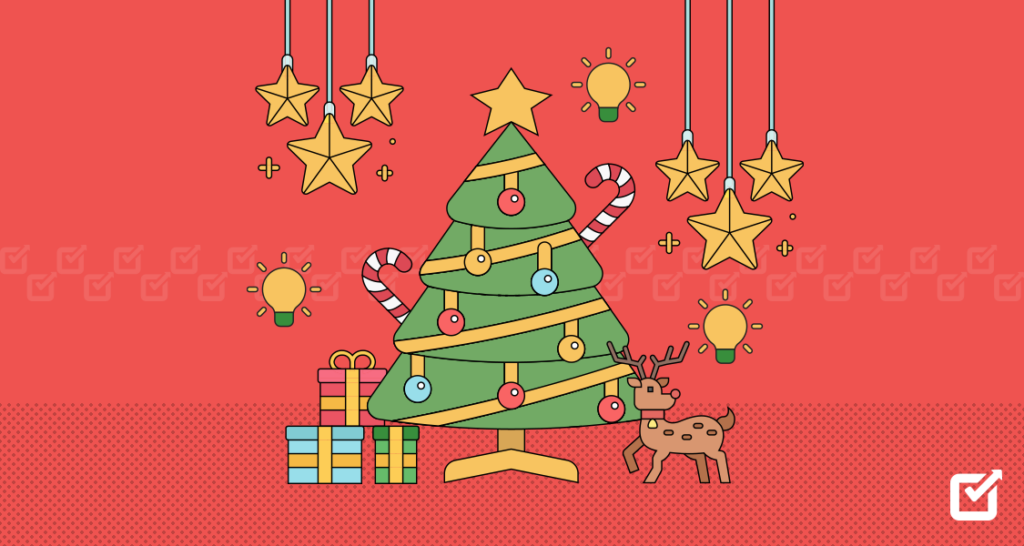 Christmas Marketing at the Right Moment
Timing is important. The optimal period to kickstart your Christmas marketing is immediately after Halloween. This implies that jotting down all your Christmas marketing ideas before the commencement of the fourth quarter is essential. This approach provides sufficient time for execution. It grants your team the creative liberty to experiment and refine concepts. Starbucks exemplifies this strategic approach by launching its Christmas-themed products as early as October.
Ideas
Here are some festive ideas to incorporate into your Christmas marketing:
Digital Holiday Greetings with Orders
The contemporary version of a traditional letter is an email. A standout Christmas marketing idea involves expressing gratitude to customers for their year-long support and business. Task your designers with creating a visually appealing digital card. Complete it with a personalized message, and dispatch it to your email subscribers. For added impact, segment your email list based on the buyer's journey and craft distinct cards for each group. Show appreciation to your customer list with a thank-you note and a 5% discount on their next purchase. Ensure prompt delivery of these cards to be part of customers' gift considerations. Infuse festive colors like red and green, and include a mistletoe in the design. Create a catchy subject line to enhance your email open rates.
Drench it in Red
Red happens to be the optimal color for capturing customers' attention. Don't hesitate; infuse your social media platforms and website with the vibrancy of red. Learn from the Bath & Body Works Christmas marketing campaign this season. They incorporate both red and green hues and charming decorations. Beyond the festive colors on the website, they cleverly use words like 'merriest' and 'Santa approved' to accentuate the uniqueness of their products. Even their social media channels are entirely dedicated to the Christmas spirit.
Product Naming
Capture the holiday spirit by giving your products creative Christmas-themed names. Infuse words like festive, peppermint, and sled in your product names. Crafting a holiday headline adds an extra touch of festivity to your brand. A catchy Christmas marketing slogan can tie all your holiday offers together like a pretty bow on top of the packaging. Consider printing a ribbon with the tagline and attaching it to orders for that special touch. Starbucks, known for its festive flair during the holiday season, released Christmas-themed coffee beans this year. It featured a Christmas blend, an espresso blend, a holiday blend, and a decaf Christmas blend.
Inclusive Seasonal Marketing
During the holiday season, your website likely attracts a diverse audience with varying cultural backgrounds and beliefs. Recognize that not everyone celebrates Christmas and the New Year on the same day. It is important to maintain inclusivity in your marketing efforts. Opt for neutral greetings in your seasonal campaigns. Taglines like "Seasonal greetings," "Happy holidays," or "Enjoy the winters" set an inclusive tone. Take inspiration from Kate Spade New York's email campaign. It strikes a balance between festive vibes, sparkles, and a pastel theme.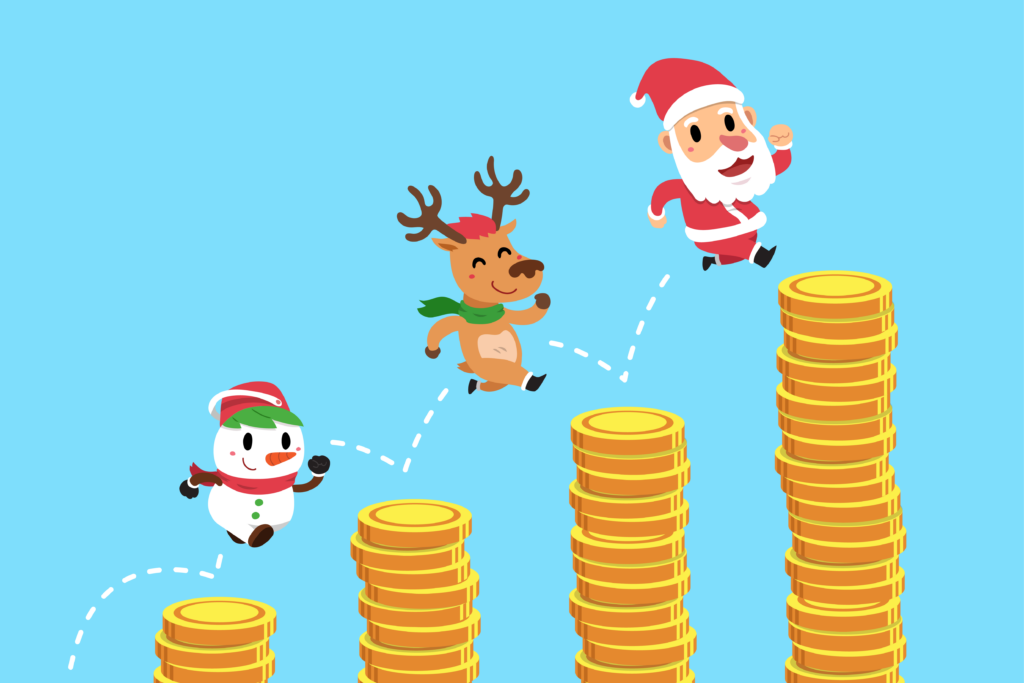 Festive Packaging
Consider the significance of packaging, a crucial aspect of branding. Introduce limited-edition holiday packaging. Go for a festive improvisation on your existing packaging. For instance, select a few products to feature in an advent calendar or create a limited-time bundle with new holiday-themed packaging. Maintain consistency in bags and overall design, focusing on minor changes that make a significant visual impact. Sephora demonstrates this approach in their annual advent calendar, which features some of their best-selling products.
Free Shipping and Returns
Boost your chances of winning over holiday shoppers by introducing free shipping. When faced with a choice between a store with free shipping and one without, customers are more likely to opt for the cost-saving option. Consider extending the promotion to include free returns. Many customers may hesitate to make a purchase if they're unsure about the product's color or if it will suit the recipient's taste. To ensure all customers are informed about the promotion, use attention-grabbing elements like an eye-catching sticky bar or this template.
Special Seasonal Menu
Create a well-thought-out Christmas menu. It not only enhances direct reservations but also provides valuable data for future marketing efforts. Consider these classic promotional Christmas menu ideas for your chefs to infuse with their creative touch:
Extend the holiday cheer to your takeout menu. For those opting to celebrate at home or share your delicious offerings as gifts, create takeout holiday menu items that not only taste great but also travel well.
Collaborate with a Local Charity
Christmas brings out the spirit of generosity. Align your business with a charitable cause. It can resonate with the community. Explore donation-matching programs to showcase your commitment to supporting the community. According to Nonprofit Source, 90% of businesses note that collaborating with reputable nonprofits enhances their brand, while 89% believe it amplifies their impact on community improvement. A great example comes from Wells Fargo, which steps up during the Christmas season by setting up a pop-up food bank.
Spice up your Christmas marketing with these simple yet effective ideas. These tips can add a touch of festive magic to your brand. Make this holiday season memorable for your customers and your business.