In 2005, video marketing took its first steps when YouTube came onto the scene. Google saw the potential and acquired YouTube in 2006. This introduced seven different ad formats by 2009. Now, we are in the era of short-form video marketing, with TikTok reining supreme.
As technology made video creation more accessible, marketers embraced this medium. Yet video's dominance today is driven by more than just technology. The rise of smartphones has made video consumption more convenient. Moreover, the pandemic caused a 215% surge in online media usage in the U.S.
Fast forward to 2023, and people now spend an average of 19 hours each week watching online videos. For brands aiming to stand out, video marketing is no longer something they can afford to overlook.
In this article, we will discuss what makes short-form videos different from other types of content and what its current trends are.
What is a Short-form Video?
Short-form video means videos that are very short, usually lasting from 5 to 90 seconds. They are designed to be easy to watch quickly and perfect for people scrolling through social media.
In the past decade, people's attention spans have significantly shrunk. One reason for this is our reliance on technology and our increasingly busy lives. This change has led to the popularity of short videos on platforms like TikTok, YouTube Shorts, and Instagram Reels. These short videos offer quick entertainment and have opened up new opportunities for marketers. In fact, a recent survey found that almost one-third of small and medium business owners spend less than $1,000 on video marketing annually. Short-form videos have taken over a significant portion of internet usage. Nearly half of our online time is dedicated to watching video content, according to GWI.
However, in a crowded landscape of short videos, it's essential to stand out. To help you do just that, here are our top tips for creating distinctive and engaging short-form video content in your marketing strategy to captivate your audience.
Best Short-form Video Tips
Here are a few tips for your short-form video efforts.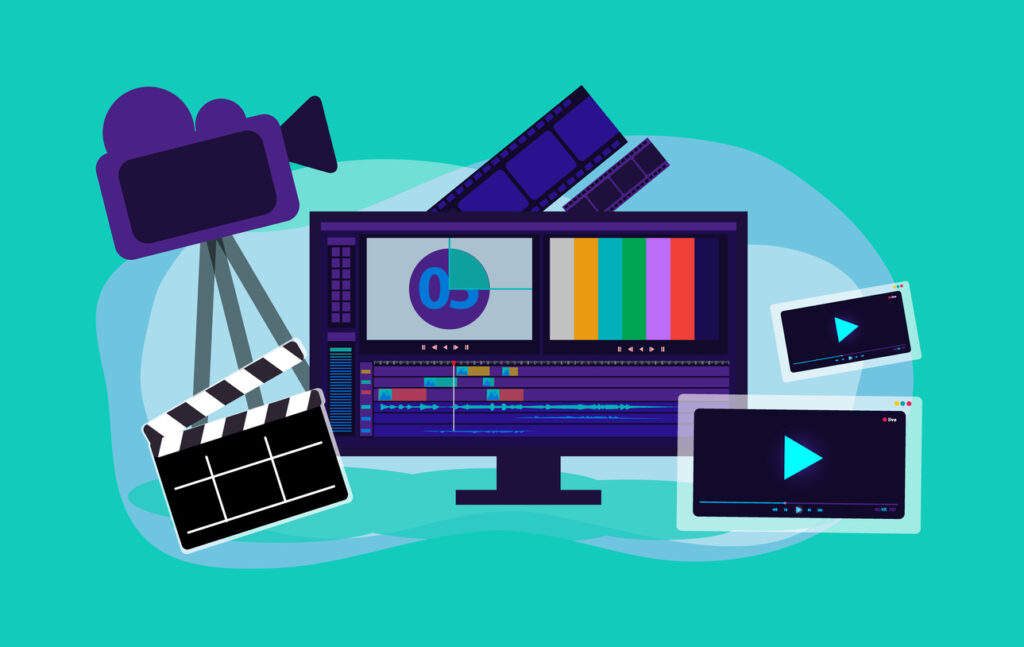 Vertical Content
Create videos that are tall and fit the whole phone screen. Most short videos are meant to be watched on phones, so making them vertical works best. When you watch videos on Instagram, TikTok, or Snapchat, you scroll up and down, not side to side. So, if your video is horizontal, it might look small and not get as much attention.
Trends
Keep an eye on what's popular. Trends in short videos change quickly. The most successful creators are the ones who keep up with what's hot. Do you notice the same sounds or songs being used repeatedly? Filters, animations, or visuals that everyone seems to be using? Viewers are attracted to these trends, so if you use them in your videos, it can help your videos reach more people.
Short
Even though short-form videos can be up to three minutes long, the best ones are usually less than a minute. On platforms like TikTok, it's recommended to keep your video very short, around 11 to 17 seconds. Longer videos can actually stress out viewers. For Instagram reels, aim for videos between 7 and 15 seconds. And for YouTube shorts, try to keep them between 15 and 60 seconds. On Snapchat Spotlight, keep your videos between 5 and 60 seconds for the best results.
Accessibility
Ensure your short videos are accessible to everyone, including those with disabilities. It's important that people with hearing or visual impairments can enjoy your short-form video content like everyone else. To achieve this, you should make sure any text or audio in your videos is designed to be accessible and suitable for those with impairments. This might involve adding text overlays or captions and using visual elements to aid understanding. Also, focus on providing high-quality audio that is clear and easy to hear.
CTA
Always include clear instructions at the end of your short video. This is called a call-to-action (CTA). It guides viewers on what to do next, whether it's subscribing, visiting your website, or making a purchase. On platforms like Instagram, you can even make your videos shoppable, allowing viewers to buy products directly. If this isn't an option, you can include a link in your bio or video description to direct viewers to make a purchase.
Short-form Video Trends
Here are the current trends in short videos:
Explainer Videos
Explainer videos have been a hit for some time, and they're not going anywhere. Why? Everyone has questions and problems, and if you can offer practical solutions, you can cleverly include your brand message. These videos could be simple how-to guides, DIY demonstrations, or educational content on relevant topics. There are various styles to choose from.
Behind-the-Scenes
Many business owners underestimate the value of showing what goes on behind the scenes. However, modern marketing is all about authenticity and building connections. Sharing videos that show your workplace, processes, and inner workings can create a strong bond with your audience. Research reveals that 72% of consumers feel a stronger connection with a brand when the CEO actively engages with them on social media.
Product Teasers
Product teasers are great for generating anticipation for your brand and products. However, they work best on platforms where short videos are already popular. Platforms like TikTok, Instagram Reels, and YouTube Shorts are your best choices.
Tools
Here are some simple tools for making short videos:
Adobe Premiere Rush
Adobe Premiere Rush helps you create high-quality short videos with professional transitions, speed adjustments, audio additions, and color corrections, even if you're not a pro video editor. Sharing your films on social media is simple.
Adobe Express
If you need quick, on-the-go editing, Adobe Express is a good option. It offers preloaded templates, drag-and-drop features, and video resizing, making it easy to create custom short videos. You can also add text, animations, and stickers for a unique touch.
CapCut
This video editing app is great for creating impressive short videos. It's owned by the same company as TikTok, so you'll find all the features needed for viral content. CapCut allows you to trim and merge clips and add sound effects, custom fonts, and stickers. It's completely free!
Short-form video marketing is on the rise with trends like these. Embrace these strategies to enhance your brand's impact and connect with your audience effectively.